Winter Reid
Has been kicked out for their poor attendance. You cannot RP with them anymore.
OOC: So like, I don't roleplay her much at the moment, because she kinda blends in with everyone. Might bring her back when I get more inspired, but probably not.
Winter Reid

General Information
Gender:
Female
Age:
16
Hair Color:
Blonde
Eye Color:
Blue/Green
Birthday:
December 1, 1995
TheSlap:
enjoy
House:
Reid Hotel
Occupation(s):
Heiress, socialite.
Aliases:
Winnie
Family & Friends
Family:
Phillip Reid (dad), August Rosso
Friends:
Trina Vega
Relationships:
Colton Hayes
Enemies:
Robbie Shapiro, Sinjin Van Cleef, Tori Vega, Jade West
Other Information
Interests:
Modelling, acting, singing, being the centre of attention, partying.
Education:
Hollywood Arts High School
Talent:
None Throwing tantrums until she gets what she wants. Modelling
Weaknesses:
Being told 'No.' Being ignored.
Role-playing Information
First appearance:
May, 2012
Portrayer:
Sara Paxton
Winter -Child of Phillip Reid
-Diamonds are a girl's best friend <3
 – 14:18, May 21, 2012 (UTC)

Well, hello random person. If you don't know me, well, of course you know me, I'm Winter Reid. I decided I'd grace this school with my presence, so you're welcome.
Appearance
Edit
Hair Color: Blonde
Eye Color: Blue/Green/Gray
Trademark: uh - all of me. I'm Winter-freaking-Reid. I have more insurance on me than most of you have on your houses.
I'm hot. Get used to it. My mom was a supermodel; August Rosso to be precise; so it's no wonder why I'm so gorgeous.
I'm a fashion model, as well, so I'm always well dressed. P.S. I don't follow trends, I MAKE them.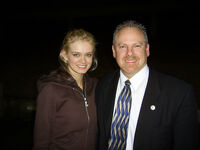 Phillip Reid (Daddy)
Edit
Daddy is the best. He always gives me whatever I want, when I want. If I don't like his wife, he divorces her. If I don't like the nanny he hired to look after me, he fires her. If I need a raise in my allowance, he gives me $100 more.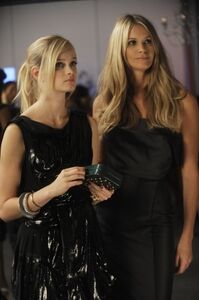 August Rosso (Mom)
Edit
My mom is alright, but she was always really annoying, too. She wouldn't let me near cameras, and she would get angry whenever I ended up in magazines, so I don't talk to her much anymore. But, at least she have me my gorgeous looks before she left.
I was born on the first day of Winter, in 1995, hence my name, Winter. I lived in the penthouse of daddy's Beverly Hills hotel, and my nannies and tutors would look after me. As I got older, I really loved having my picture taken, and I decided I was going to be a model. I mean, seriously though, a face like mine deserved to be photographed. I was doing the world a favour.
Then, I auditioned for all these modelling and acting roles, but apparently, I was too much of a diva for them, and I was supposedly throwing tantrums all the time, so I didn't really get any. Then, my tutor, whatshername, had a nervous breakdown, and daddy decided I'd had enough tutors and decided he'd send me to school, so I picked this one, because of my multitudes of talent.
They said no, at first, because they didn't want the rest of you to feel bad compared to my talent, but I, along with daddy's lawyers, convinced them otherwise.
Personality
Edit
Everyone loves me. I guess I'm just a lovable person, really. I really can't stand weird people though, I mean, seriously. Do they even try not being weird?
Relationships
Edit
Colton Hayes
Edit
Colton and I are seriously in love. He won't go anywhere without me, and he just generally loves me. He's definitely the best boyfriend I've had in ages.
Ad blocker interference detected!
Wikia is a free-to-use site that makes money from advertising. We have a modified experience for viewers using ad blockers

Wikia is not accessible if you've made further modifications. Remove the custom ad blocker rule(s) and the page will load as expected.