Robin Miller
has left HA, and you cannot RP with them anymore. sorry.
☠ Robin Miller ☠ – Child of Bianca & Russel Miller
– Student, Actress, Singer, Writer
 – 12:20, May 23, 2012 (UTC)

Hi! I'm Amethyst, but I've never been called that, so Robin's fine.
Amethyst Robin A. Miller
General Information
Gender:
Female
Age:
12
Hair Color:
Brown
Eye Color:
Brown
Birthday:
February 17, 2000
Height:
I have no idea.
Weight:
I don't know either.
Address:
45 Brooklyn Avenue, Hollywood Hills, CA
Occupation(s):
Actress, Student, Singer
Aliases:
Robin, Amy
Family & Friends
Family:
Bianca Miller (mother), Russel Miller (father), Ruby Miller (younger sister), Kate Miller (youngest sister)
Friends:
I have a list.
Relationships:
Gasp. Why you asking me that? No one.
Enemies:
I have a list. Well, not really.
Other Information
Interests:
Singing, acting, eating, writing, Greek & Egyptian Mythology, photography
Education:
Hollywood Arts High School
Talent:
singing, acting
Weaknesses:
Dancing, anything about love
Series Information
Portrayer:
a certain cookie
Appearance

Edit
Eye Colour: My eye colour is brown. I wear glasses all the time. It's actually pretty tiring and it looks stupid on me, but if I don't wear it, I'm practically blind.
Hair Colour: I'm a brunette. I have long straight hair.
Trademark: My smile? I don't know.
Bianca Miller

Edit
My mother is a housewife. We don't get along very well. We only interact when it comes to me and my sisters. She always wants me to succeed in everything, and is isn't satisfied with anything I do. Kind of like Robin Sherbatsky's dad from How I Met Your Mother or something.
Russel Miller

Edit
My father is a music producer. I love him very much. He understands me, and he listens to me.
Ruby Miller

Edit
Ruby is my younger sister. She is very sweet and she rarely gets mad. I love her and she loves me too. We fight only when absolutely necessary. xD
Kate Miller

Edit
Kate is my youngest sister. She is one year old and my mom says that she is "an identical copy of you when you were a baby yourself." She is funny, and hyper, and REALLY annoying. But I love her very much. I really do.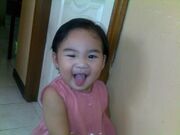 I was born to Bianca & Russel Miller on February 17, 2000. I grew up in the Philippines and I got accustomed to their traditions and we moved to Hollywood when I was 7 while Ruby was 6. I loved to play outside when I was in the Philippines. I managed to make a couple of friends when I studied there.
How did I get into Hollywood Arts?

Edit
I auditioned for Principal Helen by acting out a funny scene from some sitcom, and I sang a song.
Personality

Edit
I'm a nice person. I'm sarcastic most of the time, but I'm nice. I like getting into fights sometimes, cause I find it funny. But I try my best to keep out of them. I'm not really good at making friends, but if you wanna be one of mine, I'll be here.
Friends & Enemies

Edit
Best Friend

Edit
Acquaintances (at the moment, at least)

Edit
Things You Probably Didn't Wanna Know But You Will Anyway

Edit
I'm a hopeless romantic, but I don't like romance happening to ME. Seriously, people. I'm a kid.

I own twelve dogs.

I write songs. And also stories. Let's just say I like writing. A lot.
A Word From The Portrayer

Edit
Hola. I'm Oreo, and I portray myself Robin M.
---
Well, uh, what can I say about Robin...? She's pretty. Pretty ugly. And yes, that's me. She's a pretty sarcastic girl, but she's a hopeless romantic. For a twelve-year old, that is. Anyway, she loves making friends with people older than her, 'cuz people her age are soooo dumb. Well, not really dumb, but they just don't get her.
---
Anyway, no matter what happens, I ain't deletin' this ugly thing. <3
Ad blocker interference detected!
Wikia is a free-to-use site that makes money from advertising. We have a modified experience for viewers using ad blockers

Wikia is not accessible if you've made further modifications. Remove the custom ad blocker rule(s) and the page will load as expected.