Patricia Ellerbee
Has graduated HA, and you cannot RP with them anymore. sorry  
Ms. Bumblebee – Child of Michelle and Daniel Ellerbee
– Student
 – I'm not a clock you idiot

Hi. I'm Patricia. Pleasure, I'm sure. This is my page. If you hate it then to bad for you because I like it
Patricia Anne Ellerbee
General Information
Gender:
Female
Age:
17
Hair Color:
Blonde
Eye Color:
Blue
Birthday:
May 22, 1995
Height:
5'7
Weight:
98 lbs.
Address:
101 Milwood Glen, Hollywood CA
Occupation(s):
Student
Actress
Singer
Aliases:
Trixie, Tricia, Trix, Pat
Family & Friends
Family:
John Ellerbee
Michelle Ellerbee
Lydia Ellerbee
Daniel Lockwood
Abigail Lockwood
Caroline Lockwood
Benjamin Lockwood
Friends:
Jade West
Andre Harris
Beck Oliver
Cat Valentine
Enemies:
Trina Vega
Robbie Shapiro
Rex Powers
Sinjin Van Cleef
Other Information
Interests:
Swimming
Acting
Singing
Education:
Hollywood Arts High School
Talent:
Acting
Singing
Dancing
Weaknesses:
Perfectionism
Being called a vampire

Series Information
Portrayer:
Claire Holt and all the credit for infobox goes to Marie.
Hi I'm Patricia. Pleasure, I'm sure. I have been at HA for 3 years. So don't welcome me to the school. Click here to see my profile on TheSlap. I never update that anymore so...no need to click. KTHXBYE.
Appearance
Edit
Eye Colour: Blue
Hair Colour: Blonde
Trademark: Austrailian Accent
Eh. I'm not really your type of Tyra Banks. I'm really more, let's say, normal looking. My closet is packed of alot of casual things.
Personality
Edit
I am a mean, sarcastic, and rude person. But when you are nice to me, I'm nice, I guess. But. I always will be very sarcastic. I'm fluent in sarcasm. Also, I'm a bit of a prankster ;)
Michelle Ellerbee
Edit
My mom's awesome. She's a teacher at a school not so far from HA. She comforts me when I'm emotionally depressed. I can always count on her. She may be a bit strict but I love her no matter what. She divorced my dad. Whatever.
John Ellerbee
Edit
My dad is well. Um. Okay. Mean and nice. I guess. Whatever. I never really knew him. I dunno what else to say.
Lydia Ellerbee
Edit
Annoying little sis. I sorta love hur. Mleh.
Joseph Ellerbee
Edit
My older bro.
Daniel Lockwood
Edit
He's my step-dad. I see no difference between him and my real dad.
Abigail Lockwood
Edit
My step-sister and best friend. We've known each other practically since, like, forever. For 16 years to be exact.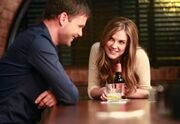 Caroline Lockwood
Edit
Hmm. Caroline Lockwood, how do I begin to explain Caroline Lockwood? Well she can be nice, she can be mean. She can be biatchy, she can be okay.
Benjamin Lockwood
Edit
Benjamin is my step-bro. True story.
I was born to Michelle and John Ellerbee at 9 AM on Monday, July 9, 1996.
As a child, I enjoyed swimming. Me and my family lived near an island when I was 8. It was pretty much the only thing I could do because my sister usually hogged the TV with stupid shows and my parents were on the internet alot.
At the age of 10, me and my family moved to California so my father could find a better job and so my mother could earn some more money.
At the age of 14, I saw this poster for some school called Hollywood Arts. When I was 12 I got into actng and loved it so I asked my mom and she said yes!
For my auditon, I sang Part of Me for Helen and also Principal Eikner. They loved it.
And that's pretty much it.
Friends and Enemies
Edit
Good FriendsEdit
Acquaintances Edit
Relationships with Other Characters
Edit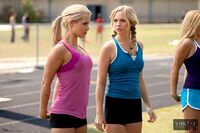 God, I love Abby ღ She's my soul sister and we stick together like glue One time we actually got stuck together with glue in kindergarten when we were doing a project we high-fived then um yeah I'd say BFF's but that sounds girly. So yeaah.
---
Kath's also my best friend along with Abigail. We get each other and she's just awesome.
---
Kyli is my good friend. I really don't know her but she's cool. I like her hair, like alot.
---
Genie is also my good friend. We went out for coffee and it was awesome.
---
He's awesome. He's like my big brother. I'll write more soon :P
I have my own celebrity doopleganger, Claire Holt. Yup <3
I'm NOT a vampire.
My favorite animal is a dolphin.
I'm NOT a vampire.
I also like horses.
I'm NOT a vampire.
I'm austrailian.
I'm NOT a vampire.
I love Glee.
I'm NOT a vampire
I watch How I Met Your Mother (like, who doesn't?)
Did I mention I'm not a vampire.
I love Evanescence.
I hate Twilight.
I love coffee.
I love ice cream, my favorite flavors are Cookies N' Cream and Cookie Dough.
If you couldn't figure out yet, I like cookies.
Note From Patricia's Portrayer
Edit
Ad blocker interference detected!
Wikia is a free-to-use site that makes money from advertising. We have a modified experience for viewers using ad blockers

Wikia is not accessible if you've made further modifications. Remove the custom ad blocker rule(s) and the page will load as expected.