Matt Oliver
Has been kicked out for their poor attendance. You cannot RP with them anymore.
Matthew Jackson Oliver
General Information
Gender:
Male
Age:
16
Hair Color:
Black
Eye Color:
Brown
Birthday:
March 4th
Height:
6"3
Address:
12427 Coconut LN.,Hollywood,CA
Occupation(s):
Student
Aliases:
Matt,Mad Matt
Family & Friends
Family:
Beck Oliver(Brother)
Friends:
Tori Vega,Beck Oliver,Mackenzie West
Relationships:
Dating Mackenzie west
Pet(s):
I have a dog named Buddy.
Enemies:
Robbie Shapiro,Trina Vega,Rex Powers
Other Information
Interests:
Soccer,Music
Education:
Hollywood Arts High School
Talent:
Singing
Weaknesses:
Writing
Role-playing Information
Portrayer:
Puppy of Pizzas
Yo I'm Matt Oliver!Feel free to look at my TheSlap Page!
Personality
Edit
I'm sometimes called a rebel, but I think thats a little bit of a exaggeration. I get mostly A's so I guess I'm smart. Mack calls me romantic, but I don't know.
Family and Friends
Edit
Beck Oliver
Edit
My big bro.He's awesome but sometimes I hate him.
Tori Vega
Edit
She's ok, but ehh...
Andre' Harris
Edit
He is one of my best friends, but he goes nuts with his music somtimes.
Trina Vega
Edit
I hate her.You don't want to hear anymore.
Jane Oliver
Edit
My mom. She works all the time so I don't see her much.
Harry Oliver
Edit
My dad. He works too.
He is my dog who is the most awesome dog in the
world
universe.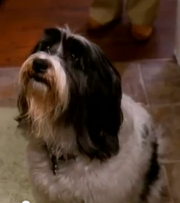 I have dated
Mackenzie
pre-k.