Mackenzie Jamie West
General Information
Gender:
Female
Age:
16
Hair Color:
Blond
Eye Color:
Brown
Birthday:
December 1st
Height:
5'12
Weight:
116 pounds
Address:
7780 High Street,Hollywood,CA
Occupation(s):
Student,Model,Actress
Aliases:
Mack,Macky,M,Chipmunk(by Matt)
Family & Friends
Family:
Jade West(Step Sister), Hal Christmas (father), Lee Christmas (mother)
Friends:
Tori Vega,Beck Oliver(past crush),Trina Vega,Robbie Shapiro(past crush),Tasha Reddy,Amelia Jenkinson
Relationships:
Dateing Matt Oliver
Pet(s):
Destiny my Doggy
Enemies:
Jade >:(
Other Information
Interests:
Acting,Modeling
Education:
Hollywood Arts High School
Talent:
Acting
Weaknesses:
Instraments,Writeing
Role-playing Information
Portrayer:
Puppy of Pizzas
Hi,my name is Mackenzie West!Here is my TheSlap Page.
Personality
Edit
I'm nice but many people also decribe me as snobby,and a perfectionist.I guess I am.I only have a few actually close friends.
The Grant Private School for Excellence
Edit
Me and Matt used to go here before Hollywood Arts.Some of our friends there are: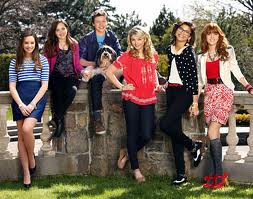 (left to right)Hannah Richerdson,Leah Richerdson,Matt and Buddy,Me,Jenna Jackson,and Penny Twinkle

My big sweet ol' dog I've had since I was 5.She is the sweetest thing ever!
Dotty Doo
Edit
My Cockapoo matt gave me for V day.She is just a pup!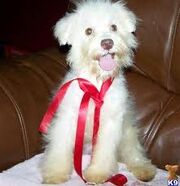 Family and Friends
Edit
Jade West
Edit
My weird Step-sister.No more to say...
Tori Vega
Edit
She's OK but I don't klnow her that well.
Beck Oliver
Edit
I used to have a huge crush on him but I'm totally over it.
Robbie Shapiro
Edit
Liked him at first. Not any more.
Lee Christmas
Edit
My mom. She married Jades dad...
Mr. West is my step dad.
Hal Christmas
Edit
My dad. I visit him every other weekend.
My cat.
Lola Christmas

Edit
My ACTUAL sister.
Gypsy Christmas
Edit
My little sis. She is so annoying!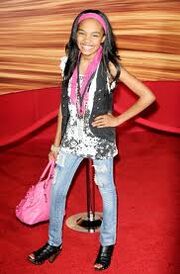 Jimmy and Angel Christmas
Edit
Jimmy and Angel are my little bro and sis. Their twins.
Hally John
Edit
My BFF from my old school. She is awesome, and I see her everytime I vist my dad.
Tasha Reddy
Edit
Probably the sweetest girl alive! She is my newest friend at Hollywood Arts.
Matt Oliver
Edit
My amazeing BF.we are madly in <3!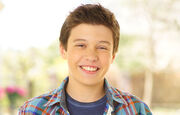 My fav song is Dark Horse by Katy Perry
A lot of people tell me that I look like Stefanie Scott