Jin Ae Rhee
has left HA, and you cannot RP with them anymore. sorry.
OOC: If you still want to RP with her, you can do so at the
California Dreamin' wiki.
Jin Ae Rhee
General Information
Gender:
gurl
Age:
17
Hair Color:
it changes
Eye Color:
i forget
Birthday:
January 14, 1996
Height:
i forget
Weight:
a number
Address:
a number
Occupation(s):
singing, dancing
Aliases:
Jin, Ree-Ree
Family & Friends
Family:
humans
Friends:
humans
Relationships:
parents won't let me have a boyfriend, but it's okay since i'm a potato
Enemies:
who wouldn't like me i mean i'm fucking awesome
Other Information
Interests:
singing, dancing, kpop, pop, music in general, domo, hello kitty, highschoolmusical
Education:
a school
Talent:
singing
Weaknesses:
things
Series Information
First appearance:
a day
Last appearance:
another day
Portrayer:
omg no one gaw
So you stumbled on to this page? Erm, uh, read on...I guess. Or whatever the word is.
Appearance
Edit
Trademark: idk, erm, my idk.
I don't knowwwwwwwwwwwwwwwwwwwww. I think I'm ugly, and nobody wants to love me. People say I look like Minzy from2ne1, but she's gorgeous and I'm not.
I'm gonna sing a special 2ne1 about my appearance
I THINK I'M UGLY
AND NOBODY WANTS TO LOVE ME
JUST LIKE HER I WANNA BE PRETTY
I WANNA BE PRETTY
DON'T LIE TO MY FACE
TELLING ME I'M PRETTY
She says I'm too addicted to the internet and I need to study more. She's just jealous of me and my computer's relationship.
Same thing with my mom. Creys.                                                                      
Well, ummm. I don't know my exact history, and like, um, yeahhhhhhhh.
Personality
Edit
uh, idk. I'll get my mom to do this section.
Jin Ae is very irresponsible. She is very lazy, and she's online too much. Sometimes she irks me, with her "Internet is life" shit. Oh! fgtrhjhuykjhtrgsfa
Wow, my mom is very nice. Well, um, yeah.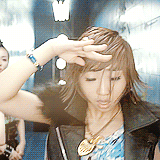 Relationships With Other Students
Edit
Andre Harris
Edit
Who
Beck Oliver
Edit
Who
Cat Valentine
Edit
Who
Jade West
Edit
Who
Robbie Shapiro
Edit
Who
Tori Vega
Edit
Who
Trina Vega
Edit
Who
Other People
Edit
The other Jin! :D Bwah, she's like the only friend I have here.
I hate Marlin. (From BTR, like ew.)
I love TRHPS. ♥
I get really bad grades. :/
I'm queen of forever alone.
if you think i'm attractive, call me
Edit
Ad blocker interference detected!
Wikia is a free-to-use site that makes money from advertising. We have a modified experience for viewers using ad blockers

Wikia is not accessible if you've made further modifications. Remove the custom ad blocker rule(s) and the page will load as expected.