Jake Little
has left HA, and you cannot RP with them anymore. sorry.
Jacob Little

General Information
Gender:
Male
Age:
17
Hair Color:
Brown
Eye Color:
Brown
Birthday:
July 13, 1995
TheSlap:
Here
House:
Here
Occupation(s):
Student
Aliases:
Jake, Jakey Boy
Family & Friends
Family:
Clare, David and Zoey Little
Friends:
Rach, Graceyn, Annie
Relationships:
Camille Jackson
Pet(s):
A few dogs.
Enemies:
I've made a few. Not gonna lie.
Other Information
Interests:
Surfing, hitting the beach, singing, girls, blonde girls, blonde girls surfing.
Education:
Hollywood Arts High School
Talent:
I've been told I'm a great kisser ;)
Weaknesses:
Gum addiction.
Role-playing Information
First appearance:
April, 2012
Portrayer:
Mitchel Musso
Jakey Boy ;) -Child of Clare and David Little
-Dating Camille Jackson
 – 12:49, June 24, 2012 (UTC)

Hey. Wassup? I'm Jake. I've been here since April. If you're interested, come hit me up. I'm currently taken but I promise I won't bite...unless you're in to that sort of stuff.
Appearance
Edit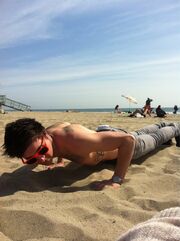 Well, to be perfectly honest, I consider myself pretty hot. I have a few tattoos, and I work out so that I stay in shape. I dye my hair occasionally, and sometimes it's long and sometimes it's short. Big deal, right.
Clare and David are my mom and dad, but I don't really talk to them much. I'd rather be hanging out with a hot chick than with them, if we put it like that.
Zoey Little
Edit
Zoey's my sister, and if any of you go anywhere near her, watch out, because I can find out where you live, and I can do bad things to you. Really bad things.
Zo and I have a few dogs between us, and right now, I've given up counting them. I know there's Bungle and Demon, then a few others with weird names.
Personality
Edit
I'm not gonna lie, ladies love me. And ladies, if you're reading this, I'm a sensitive guy. I love blondes, long walks on the beach, and chilling out. I'm also a great kisser, and I'm up for pretty much anything ;)
Relationships
Edit
Cailee Barnes
Edit
Cailee and I are officially over. We dated for a while, and she was smoking hot, and a great kisser, but she was a bit psycho and overly attached. Like, she would always get jealous of any other girl and she has tendencies to get really angry and pick fights with everyone. I broke up with her because she was leaning a bit off to the wrong side of the hot-crazy scale, when she threw a fork at some waitress.
Camille and I are kinda weird to explain and I don't really know if I can say much more about us yet, except that she's gorgeous <3
I can drive.
I have my own car.
I have a few tattoos, one of which, says Katherine. And as lovely as Katherine is, it's not for the student at this school. Katherine was mine and Zoey's four year old niece who died last year.
I have a tendency to call people by well, anything other than their first name.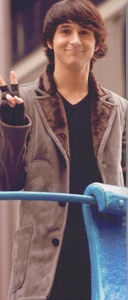 Ad blocker interference detected!
Wikia is a free-to-use site that makes money from advertising. We have a modified experience for viewers using ad blockers

Wikia is not accessible if you've made further modifications. Remove the custom ad blocker rule(s) and the page will load as expected.