Jackie Garcia
General Information
Gender:
Girl
Age:
15
Hair Color:
Brown
Eye Color:
Light brown
Birthday:
December 17,1997
Height:
5'6
Weight:
I'm not telling you.
Address:
Somewhere...
Occupation(s):
Singer,dancer,costume designer,makeup designer,and video game pro.
Aliases:
What does aliases mean?
Family & Friends
Family:
John Garcia(Dad),Taylor Kealoha(Mom),Mya Smith(Aunt/Mom's Sister),Daniel Garcia(Little Brother),and Jason Garcia(Big Brother).
Friends:
It's in a list thing.
Relationships:
N/A
Pet(s):
My boxer,Colton.
Enemies:
Kelly Jones(She's my frenemy),Trina Vega,and Tori Vega.
Other Information
Interests:
Video games,coffee,and Colton Dixon <3
Education:
Hollywood Arts High School
Talent:
Singing,dancing,costume designing,and makeup designing.
Weaknesses:
Dresses,Justin Bieber,and One Direction.
Role-playing Information
First appearance:
I forget.
Portrayer:
Message Wall:Comedypug4
Appearance
Edit
Hair Colour: Brown
Eye Colour: Light brown
Trademark: I don't know.
I used to be a tomboy. Didn't like skirts or dresses, but now I do. It was my friends and my mom, I mean aunt, who changed my mind. So now I'm girly.
John Garcia (Dad)
Edit
Yup, that's my dad. He was so nice but took drugs and stuff when his sister died. Read more in my history. Wait. That sounded weird.
Taylor Kealoha (Mom)
Edit
I don't like her...anymore. We used to be close until she started to date,Max Ramsey, her boyfriend. She would always put him before me, if you know what I mean. She's nice to my brothers, but not me.
Mya Smith (Aunt)
Edit
My mom.. I mean aunt. I sometimes call her my mom because I never had a mom who cares. She is so nice and understanding. She always makes goodies right out of the blue. She's also a chef, so she can make these delicious foods.
Max Ramsey (Mom's Boyfriend)
Edit
My mom's boyfriend. He tries to be nice to me but it just seems fake. He cheated on my mom. But now they're back together.
Daniel Garcia (Little Brother)
Edit
My little annoying monster, little brother! He's mean to me! He always pulls pranks on me. One time he put glue all over my skateboard.
Jason Garcia (Older Brother)
Edit
I can say he's WAY better than my little brother. He also goes to HA. He's a stage fighter and a dancer.
I was born on December 17, 1997 to John Garcia and Taylor Kealoha. My dad left me, my mom, older brother,and younger brother. He was a good person, it's just that when his sister died, he turned...crazy. He started to take drugs and stuff. One time he was really drunk that he abused my mom real bad :'( But luckily my neighbors heard and came to my house and called the police. By the time the police came my dad was gone. They took my mom to the hospital and she was okay. Thank God.
I live with my aunt. I don't have a close relationship with my mom. When she started to date her new boyfriend, Max, she started to be mean to me. I started to dance and sing when I was 5. I got interested in makeup and costume design when I was like 13, I guess.
I'm REALLY shy of singing around people. But one time I was in Target and it was playing "Rolling in the Deep" so I started to sing and dance, then people saw me dancing and singing. When the song ended people started clapping. I was so embarrassed though.This lady came up to me and told me about Hollywood Arts High School and that I should audition for it and I did. I sang the same song and...I got in! Yay!
Personality
Edit
I have a tomboyish personality when I'm girly. I wear dresses and skirts. I don't get along with some people, but I try to be nice most of the time. When I'm around my close friends I tend to be silly and funny. A lot.
Relationships With Other Students
Edit
Tori Vega
Edit
She's okay, I guess.
Andre Harris
Edit
Funny and talented. He's nice and random. I wouldn't mind trading Daniel for him to be my little brother. Just kidding...maybe.
Cat Valentine
Edit
She's so cute. One time I found a big bag of bibble and I showed it to her, then she just took it and ran away. I found her in the janitor's closet fiftteen minutes later eat--- well I think you know the rest.
Robbie Shapiro
Edit
His "Broken Glass song is kinda...disturbing? He's not bad, though.
Beck Oliver
Edit
When I first met him he was so quiet but he talks a lot. I also think he likes Tori too. They look better then Bade.
Jade West
Edit
You know what? She's actually not that bad. At least she's not a backstabber like Tori...
Trina Vega
Edit
Don't get me started with this girl. I only have three words: untalented, super desperate, and annoying. And I don't care if that's four words, everyone else says that's true too. Woah was I using alliteration? I feel nerdy.
Other People
Edit
Haleigh Bennett
Edit
Oh, Haleigh. It was funny how we met. She thought I was Lucy Hale and I thought she was Troian Bellisario. She gets me yeah. She's always makes laugh. She's like the sister I never had.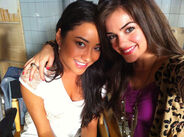 One of my best friends. She's so sweet and funny. She's like the sister I never had, too.
I just met her. She seems pretty cool. She also looks like Mona from PLL.
I met her through Hayleigh. Nia and I always have a blast togeth

er. She's also the sister I never had. Okay, you know what? All of my best friends are like the sister I never had. Lol
Useless Facts About Me
Edit
I love Better Than Revenge and Pretty Little Liars.
I skateboard.
I'm more of a coffee person than a tea.
I like smoothies better than milkshakes.
I used to have a pet tarantula but my mom's boyfriend "accidentally" killed it.
I find it funny how my best friends and I look a lot like the people on PLL. Pretty Little Liars, if you didn't know what PLL means.
That's all you need to know about me.
Ad blocker interference detected!
Wikia is a free-to-use site that makes money from advertising. We have a modified experience for viewers using ad blockers

Wikia is not accessible if you've made further modifications. Remove the custom ad blocker rule(s) and the page will load as expected.