Hyori Kim
has left HA, and you cannot RP with them anymore. sorry.
Hyori Nam Joo Kim
General Information
Gender:
Female
Age:
15
Hair Color:
Blonde
Eye Color:
I don't know
Birthday:
December 26, 1996
Height:
A height
Weight:
Nope.
Address:
lol
Occupation(s):
Student
Aliases:
No one has ever nicknamed me before....:/
Family & Friends
Family:
Mi-Hyun Kim (mother) Jin Ho Kim (father)
Friends:
I might find some soon
Relationships:
lolno
Enemies:
lol
Other Information
Interests:
Playing guitar, styling, computer programming, being the klutzy person I was meant to be
Education:
srsly
Talent:
Singing, Dancing, Acting, Guitar
Weaknesses:
beotch pleaseee
Series Information
First appearance:
lol
Last appearance:
lol
Portrayer:
Song Ju Hee and all credit for infobox goes to Crazeh101Wikeh
Edge of HYORI – Child of Mr. and Mrs. Kim
– Singer, dancer, actress
 – Some nights, I stay up staring at my laptop. Some nights, I don't sleep at all.

Helloooo.
Oh haiii.
Appe

arance
Hair Color:

Blonde. It's always been blonde. K bye.

Eye Color:

I do not know :/

Trademark:

Ummm..the fact that I don't know what my trademark is?
Family
Mi-Hyun Kim
later.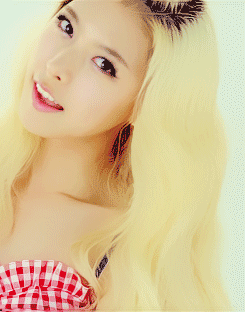 Jin Ho Kim
later.
History
Coming soon. K?
Personality
Okay, um. I'm %50 mean, %50 nice. Okay bye.
Other People
lol friends.
Pictures
Trivia
Ad blocker interference detected!
Wikia is a free-to-use site that makes money from advertising. We have a modified experience for viewers using ad blockers

Wikia is not accessible if you've made further modifications. Remove the custom ad blocker rule(s) and the page will load as expected.