Heather Nance
General Information
Gender:
Female
Age:
16
Hair Color:
Black
Eye Color:
Brown
Birthday:
May 22, 1997
Height:
5'0
Weight:
ummmmmmmmmmm
Address:
I CARRY A RAPE WHISTLE
Occupation(s):
Student
Aliases:
I don't think you can get a nickname out of Heather
Family & Friends
Family:
Elena Nance (mother) Brittany Nance (other mother)
Friends:
I'm not very social with certain people, because there's something really wrong with the world these days.
Relationships:
Nope
Enemies:
n/a
Other Information
Interests:
Acting, Dancing, Singing, my headphones
Education:
Hollywood Arts High School
Talent:
Dancing, Singing, Acting, I DJ
Weaknesses:
I judge quickly.
Series Information
First appearance:
hello
Last appearance:
goooodbyeeee
Portrayer:
Anna Kendrick.
Appearance
Edit
Hair Color: Brown
Eye Color: Blue
Trademark: My love for music, I guess.
Elena Nance
Edit
My momm. She usually helps me with my homework, future problems, etc. She's a teacher at some High School, I forgot what it was called, but whatever. #GayMarriage
Brittany Nance
Edit
My other mooommm. She helps me with relationship problems (I've had 2 boyfriends, 1 girlfriend in my life) She's a great singer and if you ever meet her you really should hear her sing. She's also a model. She's been on about, what, 15 magazines? Well, she's gorgeous, and I love her so much. #GayMarriage
Personality
Edit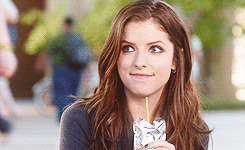 I judge quickly. When I speak, I'm very loud. I'm outgoing, but I don't talk much because I hate people. I'm weird, awkward.
I'm bisexual.
It's hard to nickname me.
I love my last name so much.
I listen to the radio all the time, even when I sleep.
Rebel Wilson is literally me.
I wanna be a DJ.
HOLLA AT THE DJ AND TELL HIM TURN IT UP

I'm kidding.
That song sucks.
Kate Hudson is so freakin' hot.
I love Lady Gaga.
Unlike everyone else, no matter how scary it may seem, I can't wait to grow up.
You know you like my boobs.
Ad blocker interference detected!
Wikia is a free-to-use site that makes money from advertising. We have a modified experience for viewers using ad blockers

Wikia is not accessible if you've made further modifications. Remove the custom ad blocker rule(s) and the page will load as expected.