Gary McGlitter
has graduated from HA, and you cannot RP with them anymore. sorry.
Garrett Reginald McGlitter
General Information
Gender:
Male
Age:
18
Hair Color:
Brown
Eye Color:
Brown
Birthday:
February 14, 1995
Height:
lol
Weight:
lol
Address:
I live in the theatre.
Occupation(s):
Student, Perv
Aliases:
Gary
Family & Friends
Family:
My Parents
Friends:
My Mom
Relationships:
SHE WON'T DO ME D:
Enemies:
Boyfriends of Girls
Other Information
Interests:
Singing, Acting, Music, Recovering, Helping Pervs
Education:
Hollywood Arts High School
Talent:
Singing, Acting
Weaknesses:
Dancing, Girls, Boys, Life
Series Information
First appearance:
lol
Last appearance:
lol
Portrayer:
Samuel Larsen and credits to myself for the infobox.
#yolo – Child of my mom and a stoopid father.
– I'm sexy, free, and single. AND READY TO BINGO :D
 – If you don't like the company, we could just do it you and me. Or three, or four, on the floor...

Hello ladies and gentlemen ;). Welcome to my page. I am Gary, recovering perv.
Appearance
Edit
Eye Color: Black
Hair Color: Brown
Trademark: My hair
If you saw my name, you would assume that I'm a gay guy that likes sparkles and unicorns. I do like sparkles and unicorns. But I like girls. Back to the point: I dress like a guy. So that is my appearance. I also hate shoes. Being barefoot is much more freeing.
Catherine Ashley Brown
Edit
My mother. As the girls say it, we are "totes bff". We are very close. She is the world renowned therapist. She writes many parenting books. All of them are part of a 12-part series: "How to Parent a Perv". Part 10, "Helping Your Child Through Perviness Withdrawals" is out January 2013. I hate this series.
Thomas Regis McGlitter
Edit
He and my mother are divorced. He is a pervy alcoholic. I hate how he passed his perverted gene onto me. I HEARD HE IS DATING A STRIPPER OR A PROSTITUTE NOW. SHE MUST BE UGGO. OR DESPERATE TO BE DATING MY DAD.
My history is very long. I was born in Seattle on Valentine's Day 1995. At age 3, my dad started working as an accountant. Later that year, he started getting drunk to make something good happen out of his sad life. January 3rd the next year, my mother divorced that fugly drunk and took me to LA with her. Life was good.
10 years later, I discovered that girls were hot. So I became a perv. My mom was worried and she started "theraparenting" me. AKA parenting and therapying at the same time. Earlier this year, I joined "Perverts Anonymous" to stop being a perv. Now, I am the president and I hope to help other pervs.
Relationships With Other Characters
Edit
I have many girl friends. No, not girlfriends, because polygamy is wrong
and offensive to perverts who can't get dates
. I have many guy friends too. Most of my friends are in my branch of Perverts Anonymous. But I don't have many here :(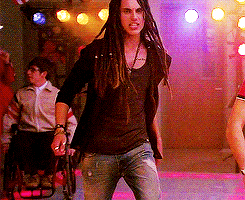 I am the most talented member of "Perverts Anonymous"
I wish to be a musical therapist someday. Singing to patients would help.
My hair is awesome.
Adam Benson and Amber Murphy are my flawless king and queen.
I love Glee. FINCHEL AND BRITTANA AND JARLEY 5EVAAAAAAAAAA
i don't understand why my otps are everyone's notps
like noel/aria
and paily
and imogeli
and krew
adison is perf
but scam is not
Gallery O' Gary
Edit
Ad blocker interference detected!
Wikia is a free-to-use site that makes money from advertising. We have a modified experience for viewers using ad blockers

Wikia is not accessible if you've made further modifications. Remove the custom ad blocker rule(s) and the page will load as expected.