Ellen Davis
has left HA, and you cannot RP with them anymore. sorry.
Ellen Renee Davis
General Information
Gender:
Female
Age:
15
Hair Color:
Brown
Eye Color:
Brown
Birthday:
February 21, 1997
Height:
5'3
Weight:
Not telling.
Address:
1843 East St, Los Angeles
Aliases:
Elle, Ella, Ellie, Ella-Bella
Family & Friends
Family:
Mary Davis, Rob Davis
Other Information
Interests:
Decorating cakes (frosting; the last line of defence), dancing, singing, cheerleading.
Education:
Hollywood Arts High School
Talent:
Dancing, acting, singing.
Weaknesses:
Instruments, maths.
Role-playing Information
First appearance:
June, 2012
Portrayer:
The littlest teapot of them all.
Ellen Davis -Child of Mary and Rob Davies
-Dancer, Actress, Cheerleader, Singer


Hey :) I'm Ellen, or Elle, or Ellie or Ella or - well, lots of names. Don't be afraid to say hi. I love meeting new people.
Appearance
Edit
Hair Colour: Brown
Eye Colour: Brown
Trademark: um - my face, I guess. Well, I guess you could say I'm a bit of a girly-girl. I love makeup and dressing up and stuff, but I could just as happily wear gym clothes, I guess. I say I guess too much.
Mary Davis
Edit
My mom is, pretty much, the coolest mom ever.
She's so happy and bubbly, and I guess I get that from her. She also owns her own little bakery, and it is so fun to hang out there and help her decorate the cakes. It's like painting, but more enjoyable because you can eat it afterwards....most of the time.
Rob Davis
Edit
My dad is awesome too. He's a really funny guy, and I just love hanging out with him, except he does work a lot of late nights and early mornings, so he's fun to hang out with while I'm at home.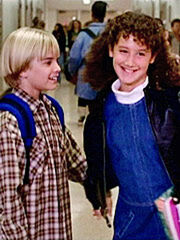 Well um - what do I say? I was born on the 21st of Ferbruary, 1997, and well, I spent a lot of time growing up, hanging out in mom's bakery. She taught me how to bake a lot of things, and I would always love decorating the cakes, so it was a win win.
I never really thought much about performing and stuff, but I always loved singing and dancing around, and hanging upside down on monkey bars, but one day my dad was going to work (he's a security guard) and I asked why dance clubs needed security, and he told me it was because they needed to make sure there were no bad dancers, so I stayed up all night working on a dance routine to show him that I was good enough o go to a club.
Anyway, after that, mom and dad started paying for me to go to Nicole's Dance Academy, and eventually I started taking singing and acting lessons, as well as gymnastics at a different studio.
The story of how I got here is actually pretty boring, to be honest. I was taking my dog for a walk, when I saw a bunch of kids in Hollywood Arts jackets, dancing and singing in the park, so I asked them what school they went to, because it was awesome, and they told me it was here, so I inquired about it, auditioned, and voila. I'm here, aren't I?
Personality
Edit
I get called a goody-two-shoes a lot. I don't try to be, I just am. I don't really have a temper, like, at all. I can't get angry, because I just never really have any reason to. I'm also a cheerleader, so I know how to get people excited and happy.
Ad blocker interference detected!
Wikia is a free-to-use site that makes money from advertising. We have a modified experience for viewers using ad blockers

Wikia is not accessible if you've made further modifications. Remove the custom ad blocker rule(s) and the page will load as expected.