Desirae McCallister
has left HA, and you cannot RP with them anymore. sorry.
Dezi McCallister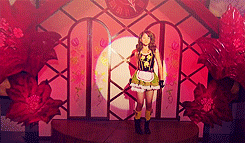 ♡ dezi the deranged ♡ – Child of two people, yeah.
– Dancer, Actress, Singer
 – You wanna rock like us, cause we're never second place.

Hiiiii. I'm Dezi. Read on or move on.
Appearance
Edit
Hair Colour: Black/Brown
Eye Colour: Brown
Trademark: My height and hair.
I dress uber-girly. I'm always wearing bright colors, colorful graphics, and loud skinny jeans.
Raquel McCallister
Edit
My mom. I have nothing much to say about her. She's nice, we never had a bad relationship. Yeah.
Ty McCallister
Edit
My dad. He was a NBA player a few years before Jordan was born. He suffered a career-ending injury just a year before he met my mother. They started a family, and the rest was history.
Jordan McCallister
Edit
He was my brother. He was killed by some "collecters" in an alley when he was 15. He was a street thug, and he basically owned the streets of Chicago. He placed bets, he sold drugs, he did everything. He placed a bad bet once, and the men said he gotta pay up. He didn't have the money. You can guess what happens next.
Born in Chicago, I lived there for a few years. My older brother Jordan got into some things like hustling, drug dealing, murdering, you get the idea. He taught me how to work the streets, and how to defend myself. Sadly, he was killed a week later. A month after his funeral, my depressed mom and dad moved us to California so that I wouldn't have the same fate. I was 8. So, there, I took dance lessons. I was really good. I met my friend Anastasia, who got me into singing. When I was 11, my dad opened McCallister's Shoe Store. Two years after that, I came here.
Personality
Edit
Well, I'm street-smart because my older-brother taught me to ways of the streets before he... Anyways, I'm also book-smart, averaging a 4.0. I'm constantly picked on for being smart, tall, and being black. But, watch out. I don't like using it, but my brother taught me how to box. Yeah.
Relationships With Other Students
Edit
Andre Harris
Edit
Good musician.
Beck Oliver
Edit
Hot, but aloof.
Cat Valentine
Edit
I. LOVE. THIS. GIRL.
Jade West
Edit
She called me Stretch and walked away. Haven't talked to her since.
Robbie Shapiro
Edit
I hear he's a nerd, but I'm smart, but I don't want to be called a nerd by association. I'm conflicted.
Tori Vega
Edit
I blew up on her after she tried to attack me for slapping Trina. Enemies.
Trina Vega
Edit
I slapped her. Not good friends.
Other People
Edit
Anastasia King
Edit
She's my best friend from my old school.
I'm a straight A student.
Ad blocker interference detected!
Wikia is a free-to-use site that makes money from advertising. We have a modified experience for viewers using ad blockers

Wikia is not accessible if you've made further modifications. Remove the custom ad blocker rule(s) and the page will load as expected.