So today,Danielle convinced me to go the mall with her,usually,I'd slap her and tell her I hate the mall,but she's one of my best friends and so I decided to go with her.First things first,we went to the food court for Danielle.She must've order 5 apple pies.She would've order six,but they ran out of apples.So we went to Symone's,that really store that Danielle loves to shop in that irritates the wazz out of me.But I found this really cute snapback that had a peace sign on it and I bought it.Danielle on the other hand bought half the store.Then we went to Bed, Bath and Yonder,you know that place where they sell fruit soap and pillow cases?So I'm not a very 'fruity person' as Danielle likes to call it,and so as soon as I stepped in the store,horror shoot through my eyes...or should I say nose?Anyways,I basically had a allergic reaction thing going on.I was sneezing,my eyes were watery,all because that store reeked of artificial fruit soap.Danielle tried her best to get out of there quick for me but she go distracted by this cute cashier who's father owns a pie place,which obviously sells apple pies.She got his number and when we left,she couldn't stop talking about how she was gonna date this guy for as long as possible until his dad likes her enough to start giving her free apple pies.All I could do was laugh it off,but hey apple pies are good so I couldn't blame her.We went to Forever 21 last because the mall was closing soon.I didn't really buy anything there suprisingly,but I watched Danielle gush over girly stuff,it was funny cause most of the stuff she picked out was ugly.But you know me,if I was more girlier I'd probably be right next to her gushing.And nooowww here's a nice picture we took for your short expected joyment.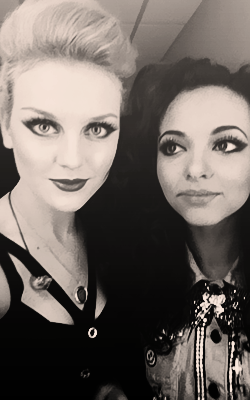 Please ignore me looking the wrong direction,:p.
Ad blocker interference detected!
Wikia is a free-to-use site that makes money from advertising. We have a modified experience for viewers using ad blockers

Wikia is not accessible if you've made further modifications. Remove the custom ad blocker rule(s) and the page will load as expected.