Brenna Meade lives at 3694 Redwood Drive 42nd Street.Los Angeles, CA.
Have fun! And please do not enter without anyone's permission.
Welcome to the Brenna Meade's House! Click a tab to explore the house and get to know the residents.
The mother of Steven,Brenna and Aleah Meade. Soon to be mother-in-law of Lea George.
Oldest child of Lavender Meade, Older brother of Brenna and Aleah Meade. Lea George's fiancee.
Middle child of Lavender Meade, sister of Steven and Aleah Meade, Lea George's soon to be sister-in-law.
Younger daughter of Lavender Meade, younger sis of Brenna and Steven, soon to be sister in law of Lea George.
This is the entrance into the house duh .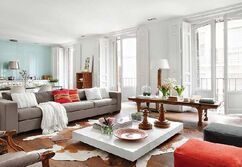 This is the living room.This is the place where all of us mostly hangs outs, but I avoid going here, because this is Bella's favorite place, also Sam's.
This is the Dining room, as you know this is where we eat, and other stuff that involves eating.
This is the library, I know its looks kinda scary, don't worry it isn't really haunted or anything.
The kitchen or what Steve calls it, Mom's lair, lolno, its actually just where you could always find mom.
The pool. We don't really come here often, but its fun when we do swim here, I get to pull Alle under the water, and get grouned -.- again
This is probably the saddest place on earth. If its real quiet at night, you could actually hear mom crying. T.T
Steve and Lea's room, Steve tells us not to enter, because if we do mom's going o ground us 'til the end of time, so me and Alle aren't taking any chances.
This is my room, no one's allowed here. Well, only mom is allowed her, sometimes I let Lea in, but I never let Steven nor Alle in, because their born to snoop around my stuff.
UNDER CONSTRUCTION!!
I hope you enjoyed our house. Please don't come back, loljk.
Ad blocker interference detected!
Wikia is a free-to-use site that makes money from advertising. We have a modified experience for viewers using ad blockers

Wikia is not accessible if you've made further modifications. Remove the custom ad blocker rule(s) and the page will load as expected.