Ashley Brown
has left HA, and you cannot RP with them anymore. sorry.
Ashley Brown
General Information
Gender:
Female
Age:
14
Hair Color:
Brown with highlights
Eye Color:
Brownish Greenish
Birthday:
Decemeber 21st
Height:
5'11
Weight:
I dont weigh myself :/
Address:
My Place....
Occupation(s):
Student
Aliases:
Ash
Family & Friends
Family:
Kaleb Brown (cousin) Jack Brown (dad) Rachel Bravo (mom) Carlie Brown (sister) Adam Brown (Uncle) Elizabeth Brown (Aunt)
Friends:
Casey Brees, Chase Jackson
Relationships:
NA
Enemies:
TBD
Other Information
Interests:
Hunger Games, Video Games, Americas Got Talent, Killing Zombies
Education:
Hollywood Arts High School
Talent:
Acting, Singing, Dancing
Weaknesses:
LadyBugs
Role-playing Information
First appearance:
When I was born
Last appearance:
When I die
Portrayer:
DancingIdiot
Appearence
Edit
Hair Color: Brown with highlights
Eye Color: Green
Trademark: Don't have one
I usaully just wear what im in themood to wear so its no telling what I'll wear.
Kaleb Brown
Edit
I actaully dont know him that much he's usaully in a corner playing video games.
Carlie Brown
Edit
Shes my little sister, she pretty good when shes not obsessing over Gale from TTG. But I swear shes a clone of Dani Cimorelli.
Rachel Bravo
Edit
She my mom.....she ok I guess
Jack Brown
Edit
Hes my dad and He's ok I mean Im usaully in my room or hanging out with Carlie when Im not at school.
Adam Brown
Edit
Hes my Uncle.....Not much to say about him
Elizabeth Brown
Edit
She my Aunt.....Nothing else to say about her......Dont judge me!
When I was younger my mom tried to force me to be little miss perfect and to be like all the other kids. I never listened and stood out of the crowd and now I can sing, dance, and act!
Relationships with Characters
Edit
Andre Harris
Edit
Dont know him
Tori Vega
Edit
No Idea.......
Trina Vega
Edit
Who?
Cat Valentine
Edit
Dont know Cat.....wait, Cats go to this school??? O.o
Beck Oliver
Edit
Hes way too full of himself.
Robbie Shapiro
Edit
No Idea again
He's a stupid puppet.....
I have ADHD
I HATE Justin Bieber (Who Doesnt?)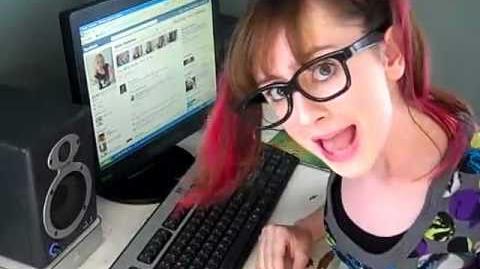 Ad blocker interference detected!
Wikia is a free-to-use site that makes money from advertising. We have a modified experience for viewers using ad blockers

Wikia is not accessible if you've made further modifications. Remove the custom ad blocker rule(s) and the page will load as expected.