Aria Forbes
has left HA, and you cannot RP with them anymore. sorry.
OOC: She might come back, I just got bored of her xp
Aria Kenzi Forbes
General Information
Gender:
Female
Age:
15
Hair Color:
Black
Eye Color:
Blue, like really really blue
Birthday:
Really? Ovtober 21 1996
Height:
5'9
Address:
Somewhere
Occupation(s):
Student, Actress, Bad Girl
Aliases:
Ari, Kenzi, Kenz
Family & Friends
Family:
< its over dere
Friends:
Brenna Meade
Pet(s):
Persian Cat named Cleo
Enemies:
Brenna Meade, Tori Vega, Trina Vega
Other Information
Interests:
acting, singing, Greek Mythology, Cheetos, stuff
Education:
HAHS
Talent:
Acting, Singing [do not ask me about my singing career]
Weaknesses:
Insecure
Role-playing Information
First appearance:
Since the world was created
Last appearance:
immortal person, over here
Portrayer:
Me and the bada** that is Miss Solo <3
Hello. I'm Aria Kenzi Forbes, not nice to meet you. What are you still doing here? Everything you need is down there. You stalker.
Appearance
Edit
Hair Colour:Black
Eye Colour: Blue
Trademark:Meh, I don't know.
I'm your average black haired, blue eyed teenage girl. I usually wear black, or dark clothes, because its what I do. Don't question it.
Farrah Flint
Edit
biological mom; she's great. I visit her from time to time.
John Paul Forbes
Edit
dad; I have nothing to say, he usually spends his time at work, or with Charly anyways.
Charly Forbes
Edit
step mom; I have to admit Charlene's great. I usually call her Charlene to piss her out, you know, because it makes my day.
Brenna Meade
Edit
cousin; Brenz's my cousin. We have a love/hate relationship. Its usually hate though.
You aren't worthy enough to know about me, but since I want to be nice, here.
I am the child of Katerina Holmes and John Paul Forbes, but eventually, as I grew both my parents also grew apart, when I was 10, they split up and dad started to date a woman named Charly. Until they got married and yadda yadda. I started acting, when I was 7, I always wanted to be in TV. My real mom was once an actress, so it wasn't really hard to act. I audition for HA when I was 13, but I didn't get in, again when I was 14 but I also didn't get in. This was my last time auditioning and finally I got in.
How I Got In to Hollywood Arts?
Edit
Just kept on auditioning. Its been really annoying, but sooo worth it.
Personality
Edit
Yeah, I'm not really nice to a few people. I might try, if I feel like it. Here's the deal I'm 40% mean, rude, sarcastic 40% nice 20% nerdy.
Other People
Edit
My undeniably weird, yet cool cousin.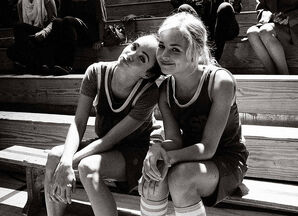 Ugh. I hate how she talks -.- She's like 'Thanks.......I guess....' What kind of person pauses that long? Geez.
She's pretty cool.
Annoying and rude beeotch. I hate her.
I hate Twilight. Its stupid, vampire's don't even sparkle when their exposed to the sun, they die
I once killed a rat.
Lost Girl, is one of the only shows that are lucky enough to be watched by me. Other shows like Glee, PLL, TVD, KH, TEC, BTR. I watch alot of TV, deal with it.
Lets face it, I'm epic.
Ad blocker interference detected!
Wikia is a free-to-use site that makes money from advertising. We have a modified experience for viewers using ad blockers

Wikia is not accessible if you've made further modifications. Remove the custom ad blocker rule(s) and the page will load as expected.