Ari-Gema Lang
has left HA, and you cannot RP with them anymore. sorry.
OOC: SORRY ARI BB BUT I NEVER USE YOOOUUU ;_; sorry for hogging like a lot but her fc is still mine don't use iu she is forever mine. she'll be back bitchez just i need to sort things out
Donner the Reindeer <3 – Child of two snowflakes
– Dashing through the snow, in a one-horse open sleigh, o'er the fields we go, laughing all the way!
 – I'm dreaming of a white Christmas with every Christmas card I write, may your days be merry and bright, and may all your Christmases be white

Hi, I'm Ari. But I don't really care what you call me anymore.
Ari-Gema Yoona Lang
General Information
Gender:
Female
Age:
15
Hair Color:
Black
Eye Color:
Brown
Birthday:
August 10, 1997
Height:
I hate using the word 'lol', but no.
Weight:
Ask my doctor, I have no idea
Address:
My house.
Occupation(s):
Student, and I work at a bookstore.
Aliases:
Ari, Gema, not my real name
Family & Friends
Family:
Virginia Lang and Celestia Lang (older sisters)
Friends:
My list is limited
Relationships:
N/A
Pet(s):
My cats
Enemies:
You know, I don't understand them much.
Other Information
Interests:
Hats, writing, photography, reading, books in general, food, sleep
Education:
Hollywood Arts High School
Talent:
Singing, acting, photography
Weaknesses:
Sensitivity, realist, negativity.
Series Information
Portrayer:
Lee Ji-eun.
Appearance
Hair Color: Black, dying is overrated bro

Eye Color: Brown, like almost every other Asian person on earth

Trademark: Um.. I'm an extreme realist?
My style isn't extravagant. I usually just find something to wear and put it on, because it's not like there's anyone to impress.
Family
Alexander Phillips
Eh, I guess he's alright. He's not the perfect rich adoptive father, but I guess he tries. He spoils me, but that's unrealistic. I don't think we're going to stay with him long.
Virginia Lang
One of my older annoying sisters. She thinks fun is the only thing that exists, and took me for granted most of the time. I mean, I should love her, but this is real life, and not everyone loves their siblings. And she fails at life anyway.
Celestia Lang
Celestia is.. interesting. She's better than Virginia, but not really nicer, and I don't understand why she goes around telling people she's Queen Celestia the Pony.
History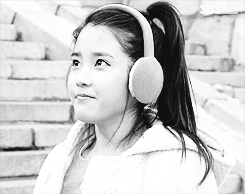 I was born in a city in South Korea as the youngest of my siblings. Growing up I had a lot of pain so I covered it up with being nice. I went through a lot of foster homes, and I met my best friend somewhere in between the lines. Then, I came here. You don't need to know anything else.
Personality
I'm a realist. I'm not happy, I'm not mean, just a realist. I'm not really a perfectionist, because nothing in life is perfect and you should know that. I'm extremely smart, but I suck at making friends.
Friends
Best Friends
Good Friends
I don't think I have any other friends besides them.
Trivia
I love books.

I love IU, and Wonder Girls.

I hate Glee, The Vampire Diaries, The Secret Circle, Pretty Little Liars, and Degrassi. Ew. But mostly Glee and Degrassi.

Idealist people bug me.

I hate electronics.

Sewing is fun.

Magazines are boring.

I hate gossip.

The only kind of music I like is country, yeah judge me if you want.

Doppelganger Network sucks.
Gallery
I'm probably going to be hipster and take these pictures off soon, but enjoy yourselves and have fun stalking my face while you can. Just kidding. Don't have fun. That's creepy.
Ad blocker interference detected!
Wikia is a free-to-use site that makes money from advertising. We have a modified experience for viewers using ad blockers

Wikia is not accessible if you've made further modifications. Remove the custom ad blocker rule(s) and the page will load as expected.